How to Repair OST Errors Caused by ILL-Configured Registries?
Repair OST Errors
An OST (Offline Storage Table) file is used to access Outlook data while offline. It occasionally generates errors when its size exceeds the stated limit. That is why it is vital to adjust the OST file size on a regular basis. Windows registries aid in the management of OST file size. In this blog, we will describe how to resolve OST issues caused due to ILL setup registries.
Errors Caused by ILL-Configured Outlook Registries
A few mistakes may have occurred, and they are as follows:
Large OST files are more susceptible to corruption.
Internal errors may arise, and functionality may cease to work.
Large OST files are more prone to corruption:
To manage large-sized files, they must be split and compacted, which may result in corruption. However, some restrictions on Outlook registries have been implemented, which we can use as a workaround. Consider the following:
The 'MaxFileSize Registry entry' value is disregarded to prevent corruption – The value is ignored to limit the size to 2GB if the 'MaxFileSize Registry entry' exceeds the ANSI 2 GB limit.
Set the UNICODE limits of registry entries beyond the values given in the table below – The user can also opt to set the UNICODE limits of the Window Registry Entries that go beyond the values shown in the following table.
Please keep in mind that this method may cause your Outlook application to run slowly.
Also Read: Methods to Convert OST File to PST Without Outlook
Internal errors may arise, and functions may cease to function:
If OST files exceed the maximum size limit, internal issues may arise and functionality may cease to work. Additionally, the data may not be copied or moved within the file, resulting in an error message such as: Can't move the items. To minimize the amount of data in this file, choose some items that you no longer require and then remove them permanently.
Note: Make sure there is at least a 5% difference between the values in the 'MaxLargeFileSize' and 'WarnLargeFileSize' registry entries.
Using Outlook Registries, you can organize OST file sizes.
To limit the size of OST files, there are four unique Windows Registry entries.
The Registry Value MaxFileSize
The 'MaxFileSize registry entry' specifies the maximum file size for Outlook data files.
The Registry item WarnFileSize
The 'WarnFileSize registry item' specifies the maximum amount of data that an Outlook data file (.pst or.ost) can contain in ANSI format.
MaximumLargeFileSize registry value
It functions similarly to the MaxFileSize registry item, but it refers to files in UNICODE format.
A Registry entry called WarnLargeFileSize
The only difference between it and the WarnFileSize function is that it also pertains to files using the UNICODE (new large format) file format.
This table lists the registry keys that govern the size of OST files in Outlook 2016, 2013, and 2010.
These Outlook registry entries can assist in limiting the size of Outlook data files. For example, when the maximum data limit of the 'WarnFileSize registry entry' is reached, Outlook data files are no longer allowed to add any more data. However, this permission only applies to incoming and outgoing mail items to external resources. Internal process changes may still result in increased physical file size.
Please perform a full-system backup before editing the registry, as incorrectly modifying the registry can cause Windows to become unstable.
The Resolution to OST Errors
OST files are extremely useful for users who operate offline, however, they can occasionally cause issues. As a result, the OST to PST Converter by Softaken is the ideal solution for preventing OST file sizes from surpassing the predefined limit. This software can repair offline Exchange OST files, read offline Exchange OST mailboxes in Outlook, and convert OST to PST. All mailbox items can be exported to MS Outlook PST, EML, MSG, MBOX, or Archive mailboxes. Before saving mailbox content into a new PST file, use the smart preview feature to get a detailed preview of it. Because it is a non-destructive tool, it preserves the original data during conversion. Even if you are a complete newbie user with no prior technical expertise, you can use this software with ease. It has a simple and interactive graphical user interface and is compatible with all Windows operating systems.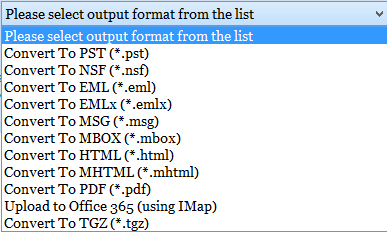 Conclusion
I have discussed "how to fix the OST errors that occurred due to ILL-Configured registries", what the potential errors are, and what the fixes are. Apply the methods listed above to fix the OST file issue after paying close attention to them.
Also Read: Fix Error Code 0X8004060C in Outlook